D25 - Dispensary Furniture
THE SHOP FITTING SOLUTION TO ORGANISE DISPENSARIES EFFICIENTLY.
D25 THE SPECIALIST SPACE SAVER FOR PHARMACY!
CAEM D25 is our specialist solution for pharmacy. D25 brings aesthetic beauty and extreme functionality to your pharmacy. D25 is a modular system that has been designed to fit the exact needs of pharmacists and dispensaries. D25 dramatically increases your drugs storage capacity, allowing you to service more patients and increase your retail area.

D25 has been designed to be fully adaptable and future proof. Based around the CAEM M25 platform, shelves, pull out shelves, drawers and other storage can be rapidly assembled, swapped out for other units and quickly relocated at any time on any of the units. You can easily re-organise your dispensary as your needs change.

As the system is high precision and built with a durable metal skeleton, D25 is a truly long term investment that will keep looking great and performing well into the future.
Get In Touch
INTRODUCING CAEM D25
1. COMPLETE DISPENSARY FURNITURE RANGE.


2. MORE VOLUME IN THE SAME FLOORSPACE.


3. MODULAR, ADAPTABLE, DURABLE METAL.

Explore D25
Do not compromise. Choose the system that fits your exact requirements with a range of storage, suitable for medicines, P-meds, ready scripts and everything else. Choose from a huge range of durable units, shelves, pull out shelves, drawers and other storage that can be rapidly assembled, swapped out for other units and quickly relocated at any time on any of the units.
Watch the video here to discover D25.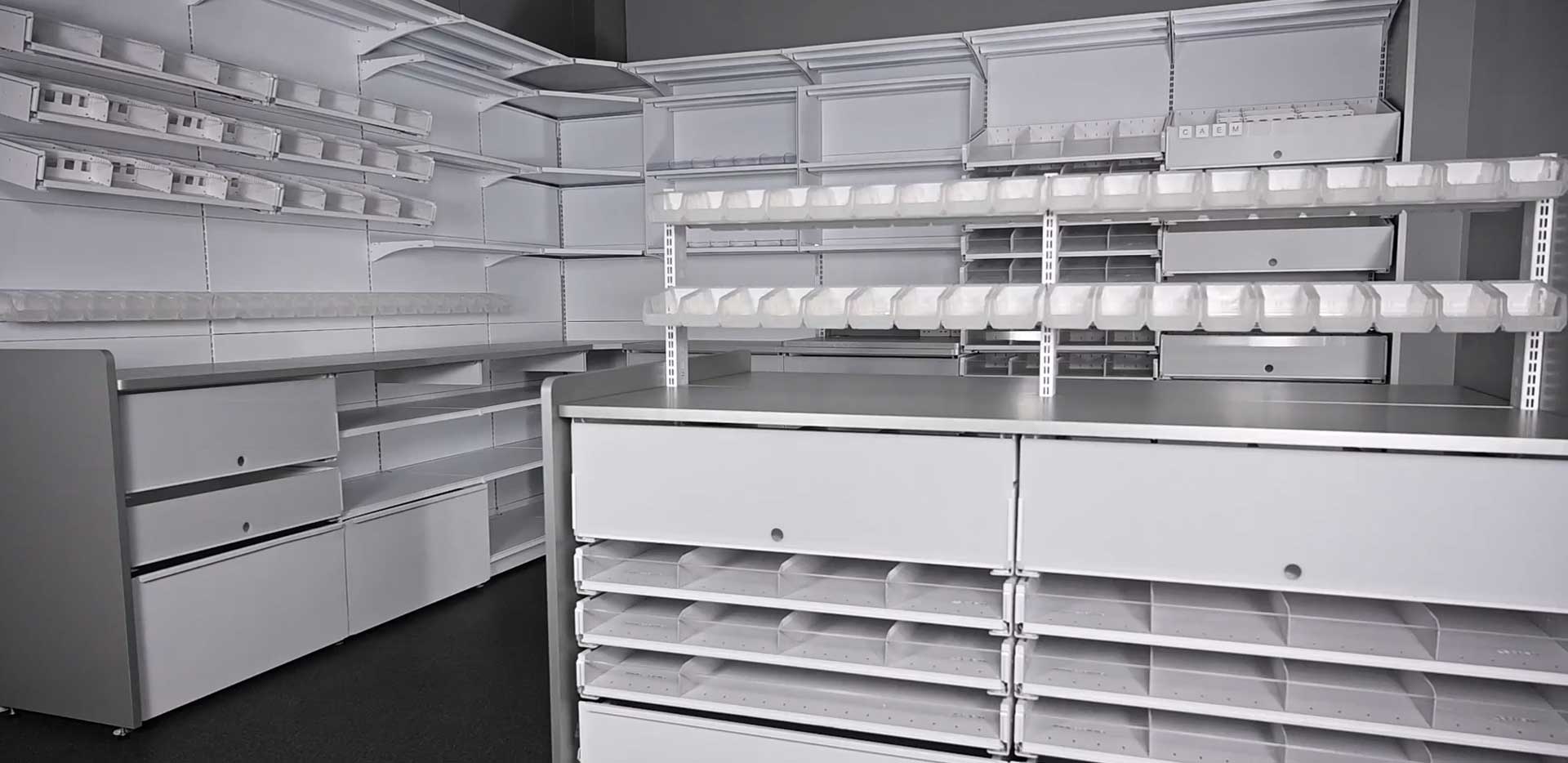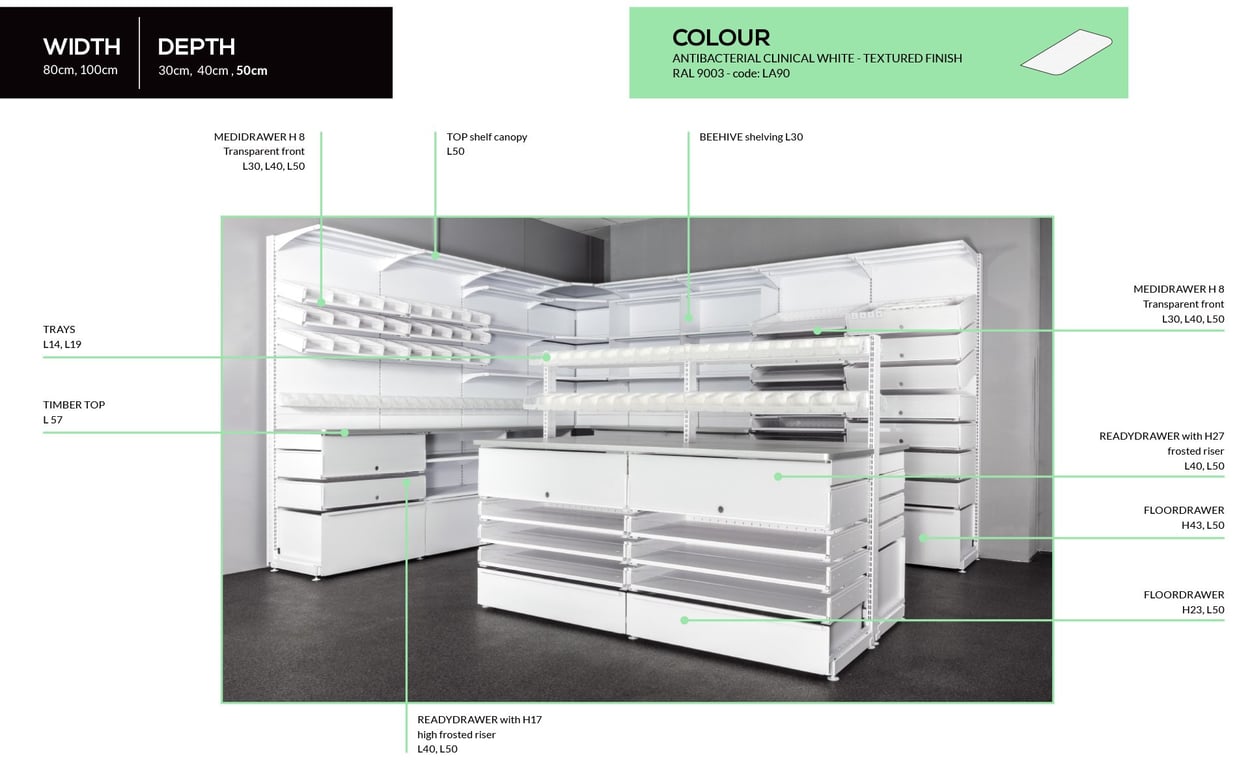 PRODUCT HIGHLIGHTS
A SELECTION OF WALL AND CENTRE UNITS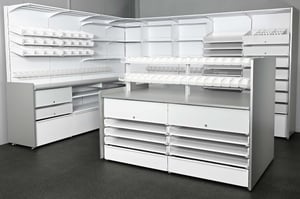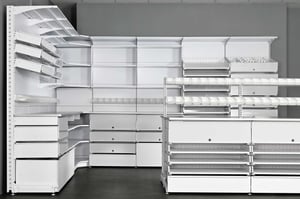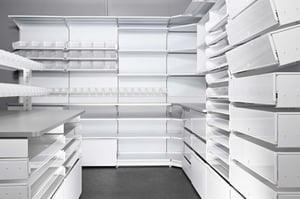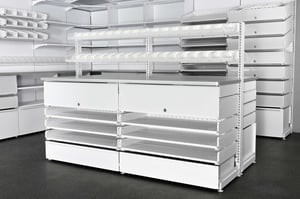 WORKTOPS
CAEM D25 is fitted with worktops designed to suit the needs of Pharmacy. Our standard worktops are availble in a number of colours and are formed from solid 25mm thick laminate with ABS edging. The solution provides you with a hard wearing, chip resistant and heat resistant surface.
The worktops are supported on modular, sturdy steel brackets. Suspending the surfaces in this way leaves the entire space below free. This can then be left empty, or populated with your preferred options.
Get In Touch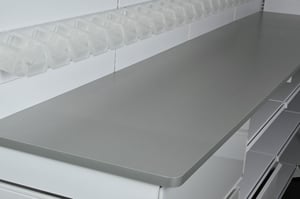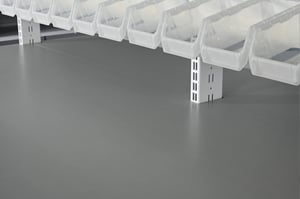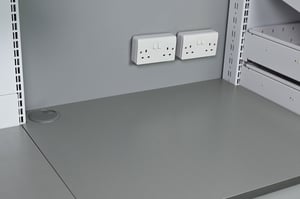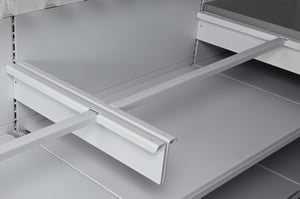 TIMBER SIDES
CAEM D25 is available with open sides, perfect for units against walls or other areas where the units can be left this way. The system also has a range of optional sides.
Like the worktops these are manufactured from 25mm laminate with ABS edges, and are available in a range of colours to suit your needs. Also, like the worktops our sides are hard wearing, tough and chip resistant.
Get In Touch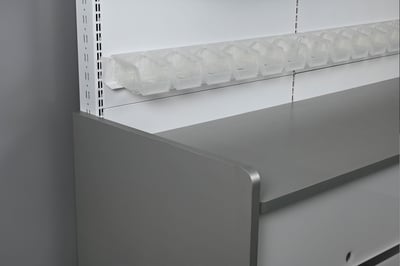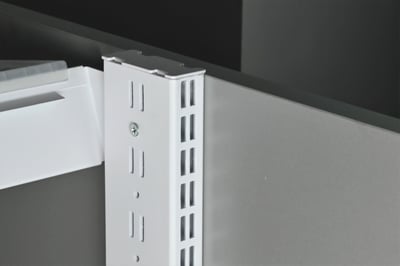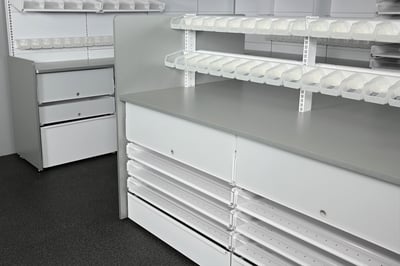 READYDRAWER
CAEM Readydrawers connect to the D25 structure at any desired height. The very same Readydrawer can be installed horizontally or inclined 15°.

A full width handle guarantees maximum ease of use. Readydrawers have two automatic lock positions: when closed and when fully opened.

Organising these pull out shelves is extremely easy and flexible. Back-to-front and side-to-side dividers are available in various sizes. Different sized frosted acrylic risers (27cm and 17cm) are available to meet your needs and their chosen application.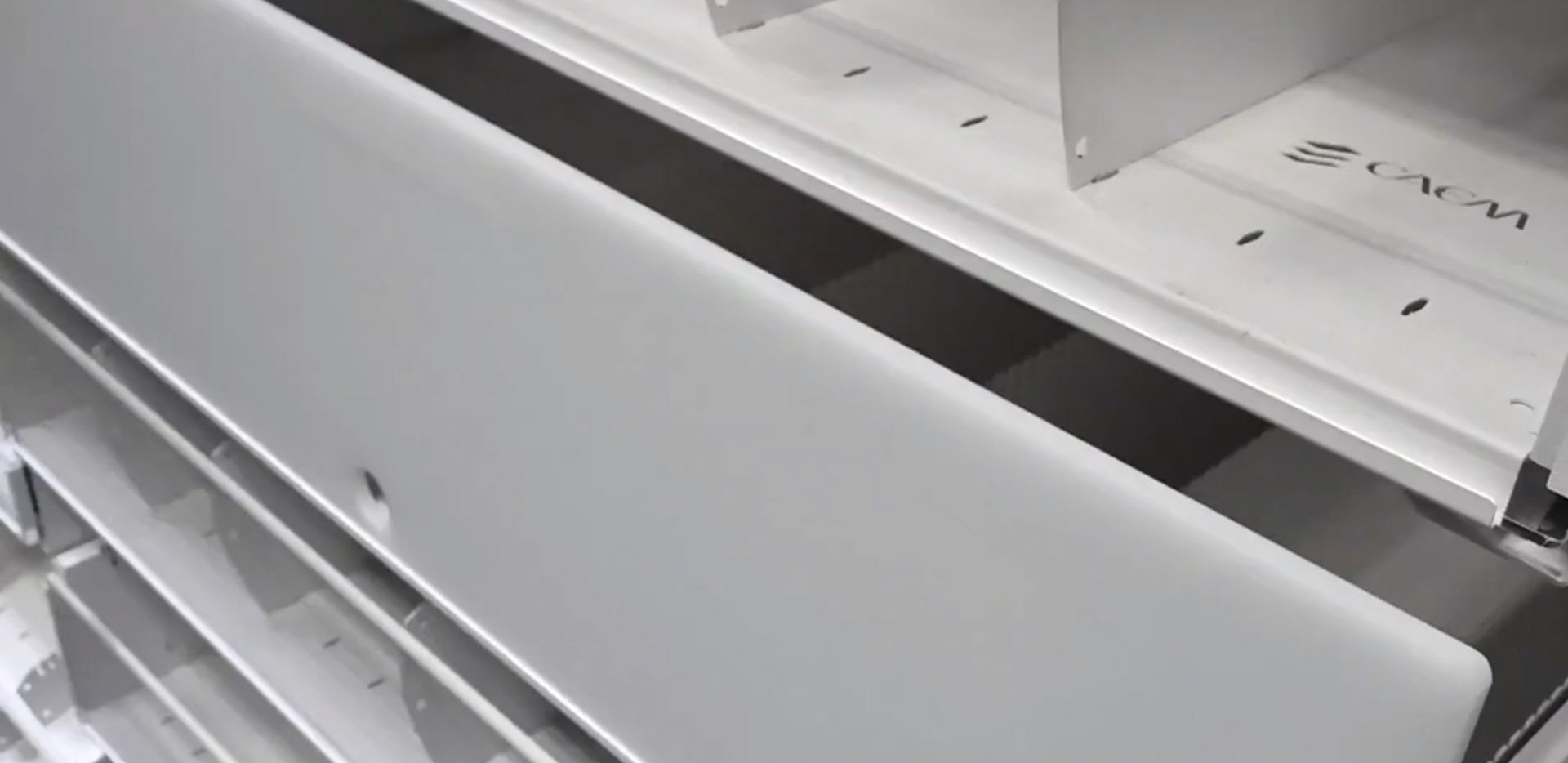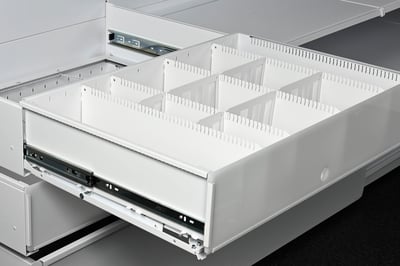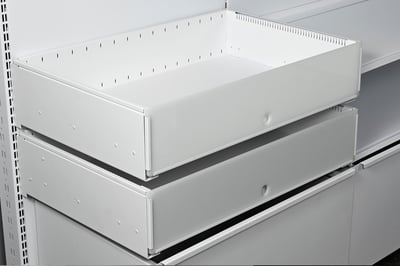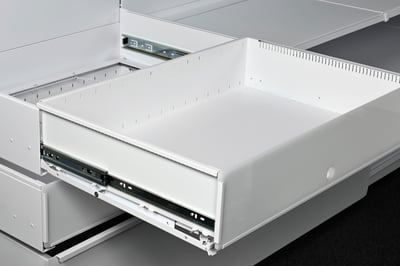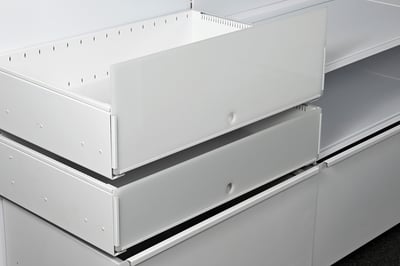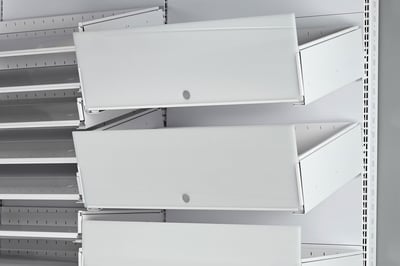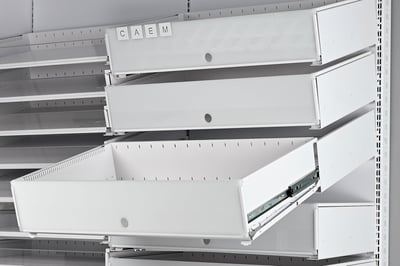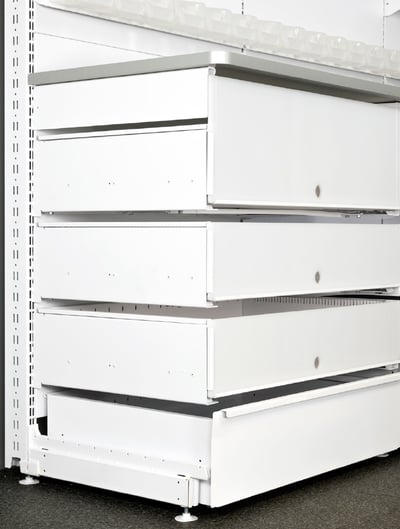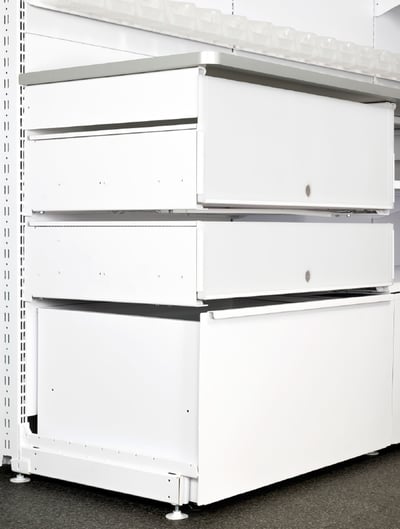 MEDIDRAWER
CAEM Medidrawer is the pull out shelf designed for high density medicines storage. The pullout design provides flexible, fully configurable and space saving dividers and a transparent fronts to aid visibility.

The use of Medidrawers in the dispensary area of pharmacies and to store medicine stocks in hospitals delivers sensational space savings. Configurable above the counter, below the counter or arranged in banks to your exact needs.

The D25 structure in conjunction with Medidrawer delivers extreme flexibility. Drawers can be organised with all the trays horizontal, inclined or partly horizontal and partly inclined. The storage units remain fully adaptable to your future needs and Medidrawers can be re-allocated across the wall and the centre room units at any time.
Get In Touch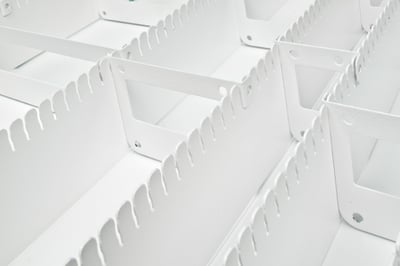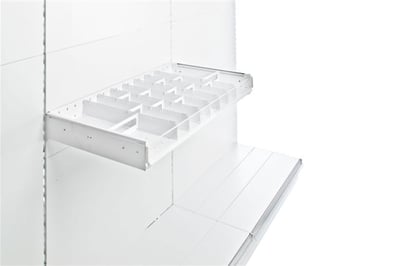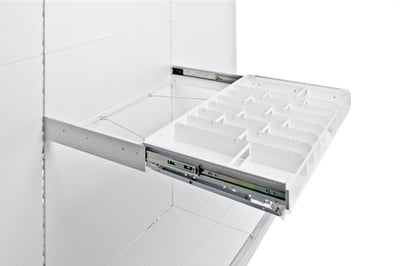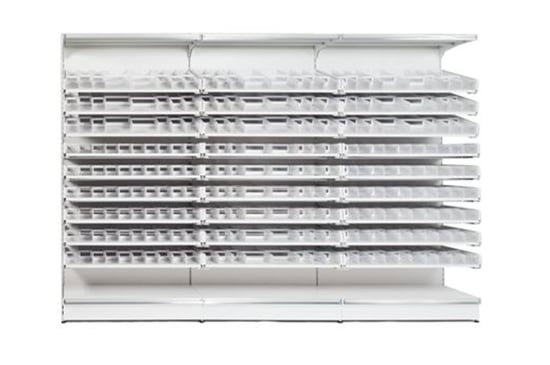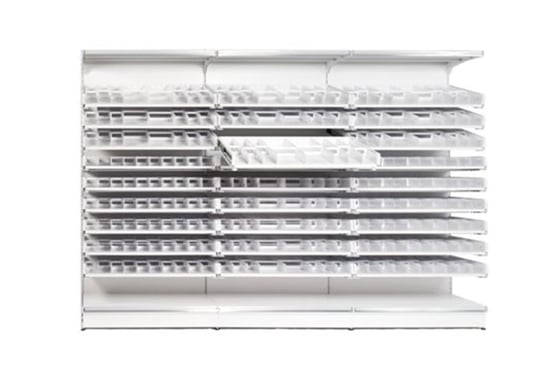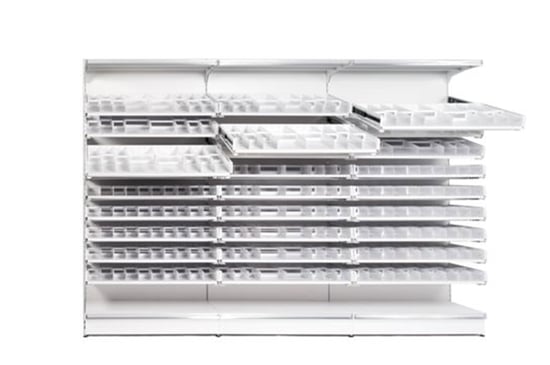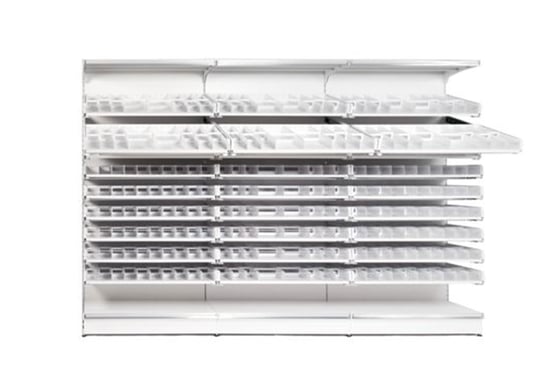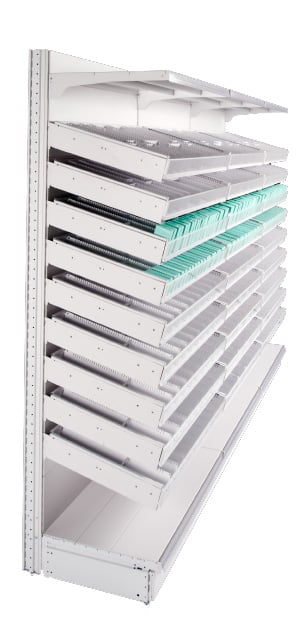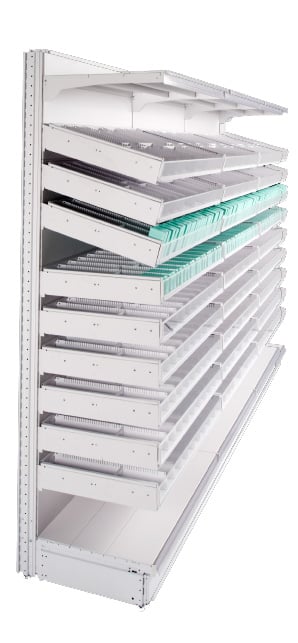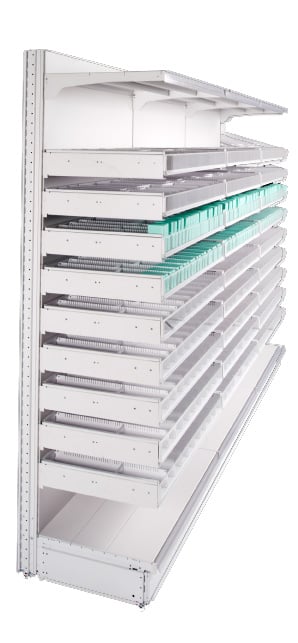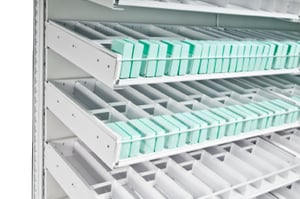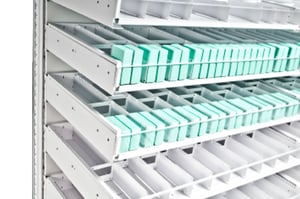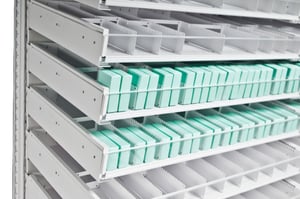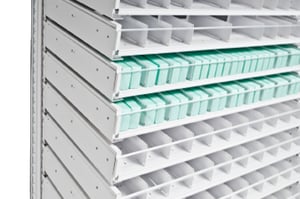 FLOORDRAWER
CAEM has used every little bit of space in the D25 system. To maximise the space in your pharmacy.
The floordrawer is a high capacity drawer that actually sits on casters under the units. These are available in two sizes, 23cm and 43cm and can be fitted with a range of back-to-front and side-to-side dividers to help you organise this extra space.
Get In Touch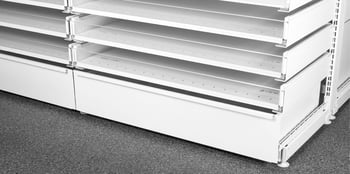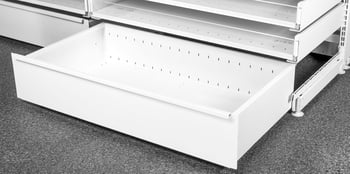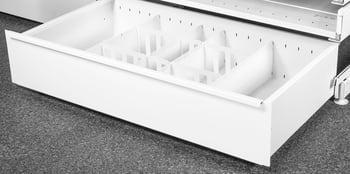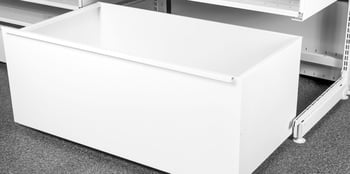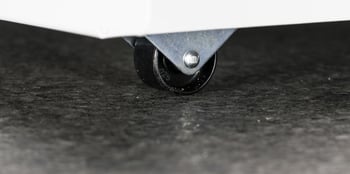 FLEXIBLE SHELVES TO FIT YOUR NEEDS.
The CAEM D25 system is based on the robust and time tested M25 shelving solution. This gives an incredible strength to the system, and a huge range of flexibility.

Don't buy a Pharmacy focused system that you fit to, our shelving fits around your needs and the needs of your individual pharmacy environment. Our metal shelves are not only stronger than timber alternatives, but also easier to clean and harder wearing.

All our shelving is coated in our specialist antimicrobial coating to help reduce cross contamination, increase hygiene and keep your teams safe.
Get In Touch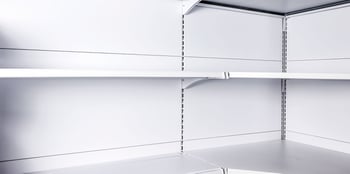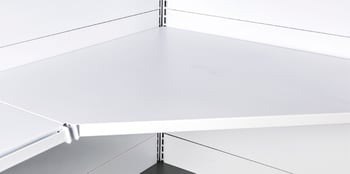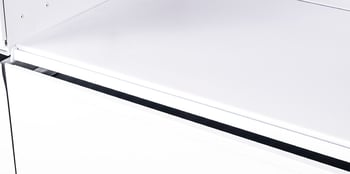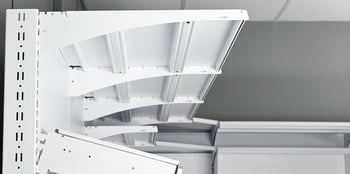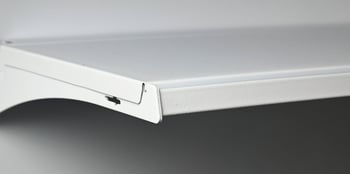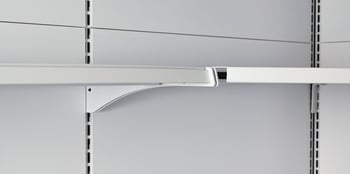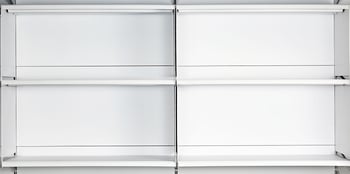 D25 Beehive shelving allows you to form sectional
shelving areas to fit your exact needs.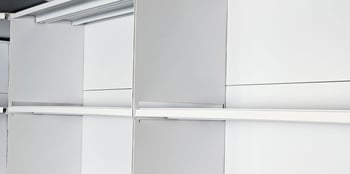 Beehive shelves can be installed in runs
and easily divided.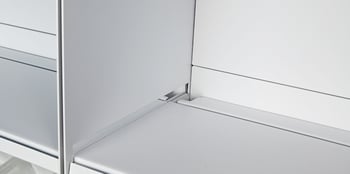 The shelf dividers and brackets are one piece. They are
space saving and easy to reconfigure.
MAKE WORK MORE COMFORTABLE WITH LED LIGHTING
Make your working environment more comfortable with the addition of under shelf LED lighting.

CAEM's ARDENTE Modular LED lighting solution provides instant light in your Pharmacy. The magnetic fixtures mean that it is simple to configure and re-configure as your pharmacy changes. Simply add tubes, transformers and tracks.

Purchase as part of the initial build, or buy as a kit later.
Get In Touch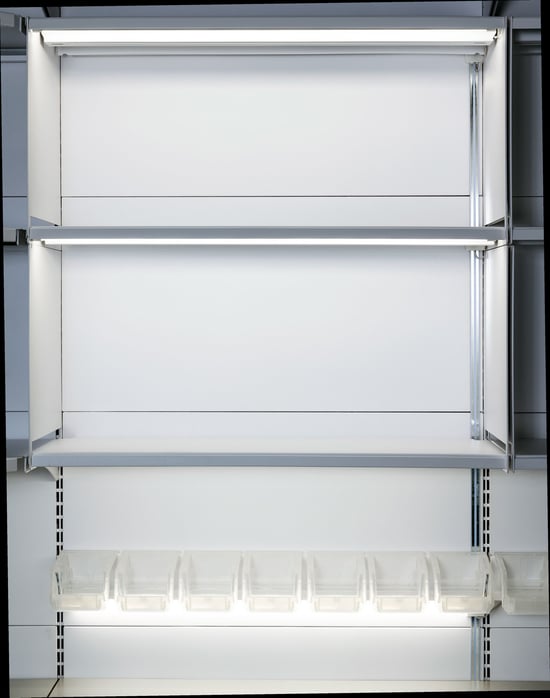 TRAYS
CAEM's BSN Trays are manufactured in with durable frosted transparent plastic. They are both durable and practical.

The trays can be hung using the specially adapted bar, that simply clips into the system. They are simple to label, and can be stacked when not in use. Trays are available in two sizes: 136X104X76mm and 187X104X76mm.
Get In Touch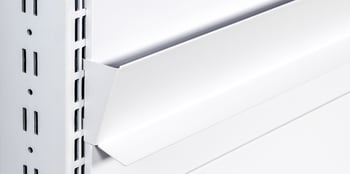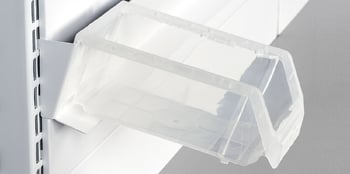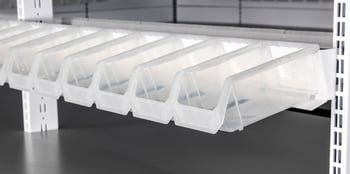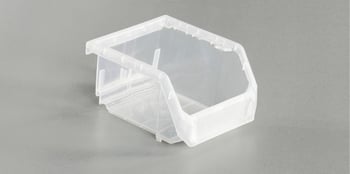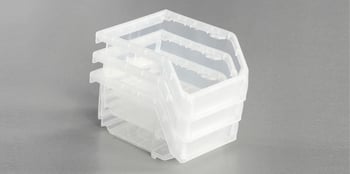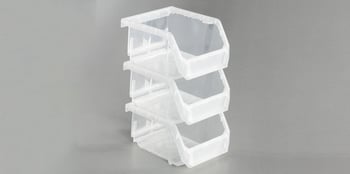 KEEPING YOU SAFER WITH ANTIBACTERIAL COATINGS.
Microorganisms, both good and bad are a fact of life and are all around us in the environment. As part of the CAEM commitment to hygiene the D25 solution uses a specially developed range of antimicrobial coatings. These powder coatings are not only aesthetically beautiful and hard wearing, they contain Silver ions that help to inhibit the growth of microbes on the coated surface. These coatings are designed to provide protection over an extended period and add a further layer of peace of mind for pharmacies and dispensaries.
Get In Touch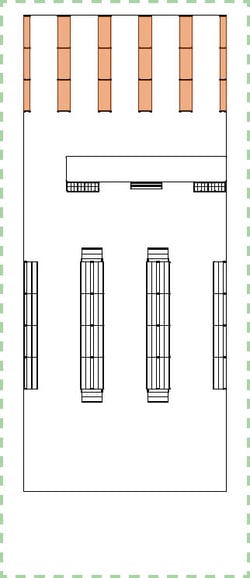 An example of a dispensary built
with any type of storage shelving.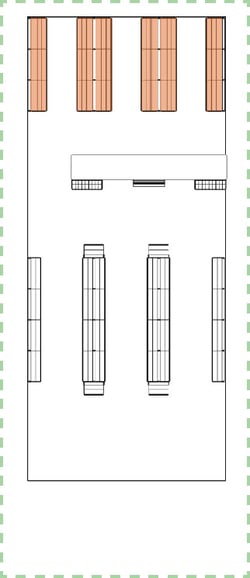 Changing from shelving to D25 drawers, the same dispensary will hold nearly 50% more medicines.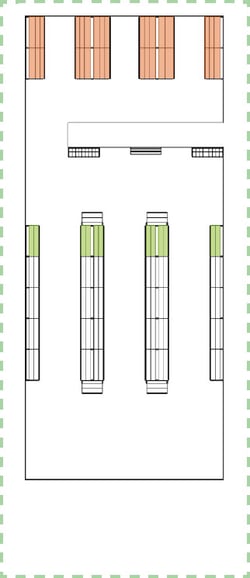 The dispensary floor space could be shrunk and still be capable of the same storage. This would increase retail sales floor area, and sales by 25%.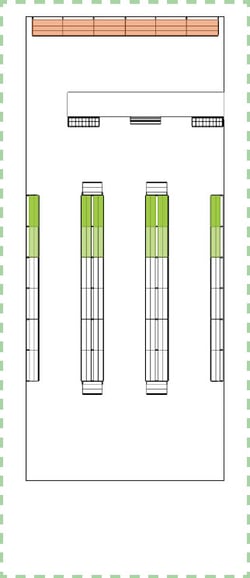 Thanks to its high density performance, D25 can be used to reduce the dispensary area even further, to boost retail merchandising and sales by 50%.
---