PET STORES
CAEM Pet shop shelving moves your store away from the purely practical, providing a warm inviting environment for your pet loving clientele.
Get In Touch
A TRIP TO THE PET STORE BECOMES A DAY OUT WITH THE RIGHT DISPLAYS
Pet shop shelving has traditionally been uninspiring, with pet supplies being seen as practical. More recently, however, we've grown to see our pets as members of the family. We want our pet stores to reflect the love and joy we feel for our furry friends. That's why pet shop shelving shouldn't be seen as an afterthought. It's a vital stage for your animal-friendly show-stoppers.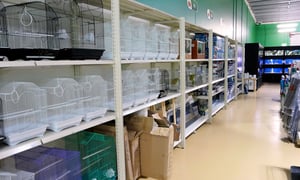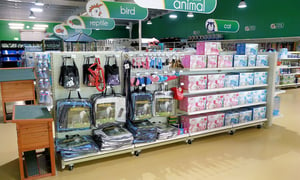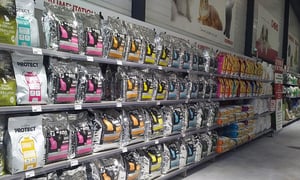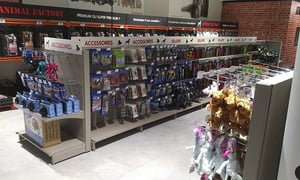 A PET STORE FOR THE 21ST CENTURY


Pet supply stores have their unique set of problems. Gone are the days of overstuffed shelves overflowing with pet paraphernalia, with dirty carpets and dusty shelving. We think pets deserve more love than that. Customers need to take delight in your store while shopping for their pet products and not be put off by grubby surfaces.

A clean, hygienic, tidy and attractive environment is the keystone to keeping the customers in store for longer which means more browsing and more sales.

CAEM shelves are here to facilitate that. They combine strong units with flexibility to create the perfect ambience. As well as being durable, sturdy and reliable, our shelving systems are customisable to match your branding. Our range of mix and match accessories deliver a truly bespoke solution.
PET SHOP SHELVING THAT DELIGHTS
A trip to the pet store becomes an enjoyable experience
CAEM has 60 years delivering high performing retail shelving solutions to a variety of sectors including
pet shops. Besides our products, we are uniquely placed to advise you on the setup that works for your
individual store.
THE RIGHT CHOICE
CAEM has helped thousands of retailers create the perfect in-store experience.
PET related shopping is highly experiential, it has become part of the family's day out and numbers reveal spending keeps rising. There is a high degree of impulse buying as well.
The store format needs to deliver a pleasing environment while guaranteeing strength and flexibility of display.
PET Stores from around the world are using our M25, TN9 and S50 shelving systems.
With a combination of our tried and trusted shelving products, you will be able to showcase a wide selection of products.
Our customised colour finishes in 30+ colours will create a more visually-appealing retail environment.
Get In Touch