ORGANIC FOOD STORES
Bio and Organic stores want to stand out from the convenience and supermarkets, through the creation of warm inviting spaces with more natural materials.
Get In Touch
STAND OUT SHELVING FOR BIO AND ORGANIC STORES
Our shelving for organic and bio stores helps them to stand out from the competition with colour and material options that make a statement.
Our modular shelving is highly configurable and lightweight yet robust. Timber options bring warmth and move away from the usual plain steel.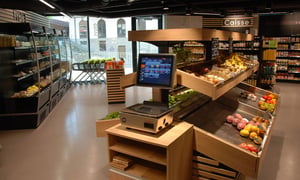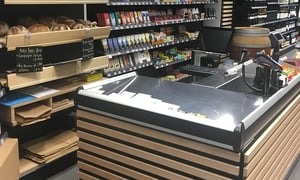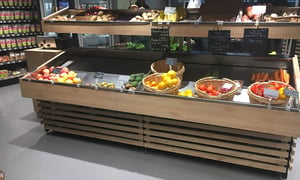 OUR SHELVING FOR ORGANIC STORES HELPS YOU
TO MERCHANDISE YOUR RANGE MORE EFFECTIVELY.


Your organic store needs the right shelving to help it stand out. A range of systems that cater not only for the look and feel of your brand but also complement the ethos of your merchandise and the huge range you may stock.

CAEM can help you, supplying a flexible range of shelving systems, available in 30+ colours and finishes. Our shelves are hard wearing with our innovative powder coat at no extra cost. The modular shelving systems are available with a huge number of focused options for your needs and our M25 25mm pitch system can even be configured to adjust isle space, and even add a shelf to allow you to merchandise more. Talk to us about timber accents to bring a warmer and more organic feel to your store.

Additional items: With a large range of goods, you need those specialist accessories that complement your merchandise. For example, with zero packaging you need solutions to keep fruit, vegetables and meats hygienically fresh (get in touch to discuss our chillers). You also need solutions such as gravity bins to allow for items to be dispensed easily into customer containers. Again get in touch to see if we can help you.
FLEXIBLE SHELVING THAT CHANGES WITH YOUR PROMOTIONS
Practical, durable and attractive display shelving
CAEM has a pedigree in high conversion retail shelving in many sectors including supermarkets and
food stores. Having serviced over 10,000 stores in our 60-year history, we are in a good position to offer
our expertise to food retailers on what will work for you.
PRODUCT OVERVIEW
For organic stores we developed an integration of timbers essences with the flexibility and merchandising capabilities of M25.
Adopting M25-Wire is another option available to achieve the ultimate store format design.

The Ardente Lighting System is the perfect addition to any shelving system to highlight key products and promotions.
Get In Touch